New national study reveals voter perceptions of libraries
https://librarytechnology.org/pr/23301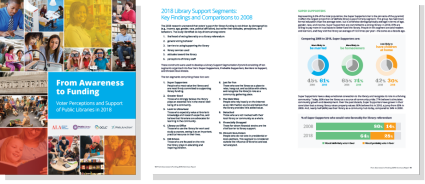 https://www.webjunction.org/news/webjunction/from-awareness-to-funding-2018.html
DUBLIN, Ohio, 21 March 2018—The Public Library Association (PLA), a division of the American Library Association (ALA), and the ALA Office for Library Advocacy, in partnership with OCLC, today released the report, From Awareness to Funding: Voter Perceptions and Support of Public Libraries in 2018. The research updates OCLC's seminal 2008 study that explored voter perceptions, use, and attitudes toward public libraries, librarians, and library funding. Access the summary report, infographics, and more at oc.lc/awareness2018.
The 2018 survey was again conducted by Leo Burnett USA, repeating questions and segmentation analysis from the original study, to allow for comparison with 2008 results. Key findings include:
a majority of U.S. voters believe public libraries are essential to communities and a source of civic pride;
voters still highly value traditional library services such as free access to books and quiet areas, but also increasingly value the library as a community hub;
there continues to be a disconnect between the services libraries offer and public awareness and support for those services;
although a majority of voters are likely to support library funding at the local ballot box, fewer are committed to definite support than a decade ago; and
a majority of voters still do not realize that the primary source of library funding is local.
"Just as a decade ago, this new data offers critical insights that will inform strategic planning at the local, state and national levels for years to come," said PLA President Pam Sandlian Smith. "I hope today's release will serve as a catalyst for important conversations and creative engagement across the public library community."
As part of the 2018 PLA Conference, speakers from ALA, PLA and OCLC will share key findings and analysis from the new research, provide new details on library super supporters and probable supporters in context with other library trends and research, and initiate discussion on how advocates can act on these findings. "Voter Perceptions: Getting from Awareness to Funding in 2018" will take place Thursday, March 22, at 4 p.m. in the Philadelphia Convention Center 202AB. A new infographic highlighting key findings also is available at the OCLC, PLA and ALA booths during the conference.
"While no industry has been immune from the effects of the significant societal shifts that have occurred over the past decade, this new research puts into context the resiliency and adaptability of libraries in the face of rapid and continuous change," said Skip Prichard, OCLC President and CEO.
For people who miss the PLA Conference session, OCLC's WebJunction will host a free webinar Voter Perceptions of Libraries: Getting From Awareness to Funding in 2018 on April 17.
The original research identified nine segments of the voting population based on six factors around voter behavior and attitudes toward funding, use of the library, perceptions of libraries and library staff. The 2018 report and both scheduled programs will revisit and update information about these segments, including Super Supporters, Probable Supporters and Barriers to Support. The full report and additional resources can be found online at oc.lc/awareness2018.
About the Public Library Association
The Public Library Association (PLA) is the largest association dedicated to supporting the unique and evolving needs of public library professionals. Founded in 1944, PLA serves nearly 9,000 members in public libraries large and small in communities across the United States and Canada, with a growing presence around the world. PLA offers professional development opportunities, unique public library initiatives, and a conference that welcomes public library staff into meaningful partnership. In collaboration with its parent organization, the American Library Association, PLA strives to help its members shape the essential institution of public libraries by serving as an indispensable ally for public library leaders.
About the American Library Association
The American Library Association (ALA) is the oldest and largest library association in the world, with approximately 57,000 members in academic, public, school, government and special libraries. The mission of the American Library Association is to provide leadership for the development, promotion and improvement of library and information services and the profession of librarianship in order to enhance learning and ensure access to information for all.
About OCLC
OCLC is a nonprofit global library cooperative providing shared technology services, original research and community programs so that libraries can better fuel learning, research and innovation. Through OCLC, member libraries cooperatively produce and maintain WorldCat, the most comprehensive global network of data about library collections and services. Libraries gain efficiencies through OCLC's WorldShare, a complete set of library management applications and services built on an open, cloud-based platform. It is through collaboration and sharing of the world's collected knowledge that libraries can help people find answers they need to solve problems. Together as OCLC, member libraries, staff and partners make breakthroughs possible.
---
| | |
| --- | --- |
| Summary: | The Public Library Association, a division of the American Library Association, and the ALA Office for Library Advocacy, in partnership with OCLC, released the report, From Awareness to Funding: Voter Perceptions and Support of Public Libraries in 2018. The research updates OCLC's seminal 2008 study that explored voter perceptions, use, and attitudes toward public libraries, librarians, and library funding. |
| Publication Year: | 2018 |
| Type of Material: | Press Release |
| Language | English |
| Date Issued: | March 21, 2018 |
| Publisher: | OCLC |
| Company: | |
| Company: | OCLC |
| Permalink: | https://librarytechnology.org/pr/23301 |
Direct Link: https://www.oclc.org/research/awareness-to-funding-2018.html