OLA has a display as part of the Community Exhibits Program at the Legislative Assembly of Ontario. This exhibit presents just a few of the fun, weird and wonderful things that you can 'check out' from libraries across Ontario. #ILoveOnLibraries #ONPoli
Hamilton Public Library has one too.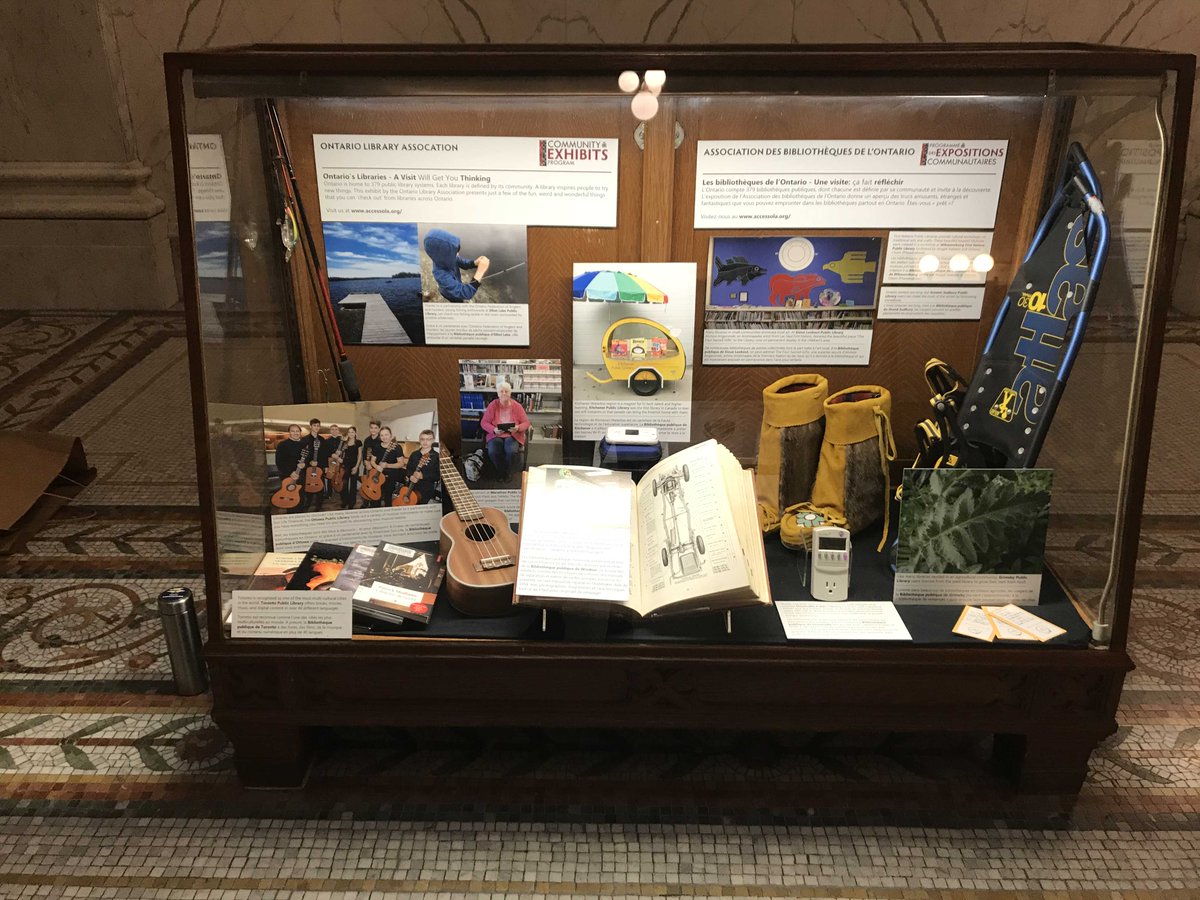 Ontario's Libraries – A Visit Will Get You Thinking /  "Une visit : ça fait réfléchir"
Ontario is home to 379 public library systems. Each library is defined by its community. A library inspires people to try new things. This exhibit by the Ontario Library Association presents just a few of the fun, weird and wonderful things that you can 'check out' from libraries across Ontario.
Visit us at www.accessola.org/
Thanks to a partnership with the Ontario Federation of Anglers and Hunters, young fishing enthusiasts at Elliot Lake Public Library can check out fishing tackle in this town surrounded by pristine wilderness.
Savvy Seniors at Marathon Public Library can take classes and check-out iPads and Tablets. The library helps you learn about devices and gadgets that can bring the world to you.
Many libraries in small communities showcase local art. At Sioux Lookout Public Library Ahmoo Angeconeb, an Anishnaawbe artist from Lac Seul First Nation, donated the beautiful "The Four Sacred Gifts" to the Library, now on permanent display in the children's area.
Like many libraries nestled in an agricultural community, Grimsby Public Library users borrow from the seed library to grow their own fresh food.
Ontario winters are long, but Greater Sudbury Public Library users can make the most of the winter by borrowing snow shoes.
Public Libraries love partnerships that help people save money! Huntsville Public Library partners with Lakeland Power and the Ontario Power Authority to provide library users with Kill-A-Watt Readers that helps determine how much electricity is consumed by old, inefficient or power hungry appliances.
Kitchener-Waterloo region is a magnet for hi-tech talent and higher learning. Kitchener Public Library was the first library in Canada to loan out wifi-hotspots so that people can bring the Internet home with them.
Libraries honour, preserve and showcase local history. The Windsor Public Library Automotive Archives includes historical automotive brochures, repair manuals, and even vintage gas pumps. Here is a rare 1954 Studebaker Shop manual that includes photographs, diagrams and specifications – ideal for a restoration project.
First Nations Public Libraries provide cultural workshops on traditional arts and crafts. These beautiful beaded Mukluks were created in a workshop at Wikwemikong First Nation Public Library facilitated by Abigail Aiabens and Dolores Chum (Pitawanakwat).
Toronto is recognized as one of the most multi-cultural cities in the world. Toronto Public Library offers books, movies, music, and digital content in over 40 different languages.
Libraries are places to discover! Like many libraries across Ontario and thanks to a partnership with Sun Life Financial, the Ottawa Public Library lends out a variety of musical instruments to make sure you have everything you need on your path to discovering your musical talents.