CITY OF PERRY UNVEILS NEW STORYWALK PROGRAM AT WIESE PARK
https://www.raccoonvalleyradio.com/2020/06/19/city-of-perry-unveils-new-storywalk-program-at-wiese-park/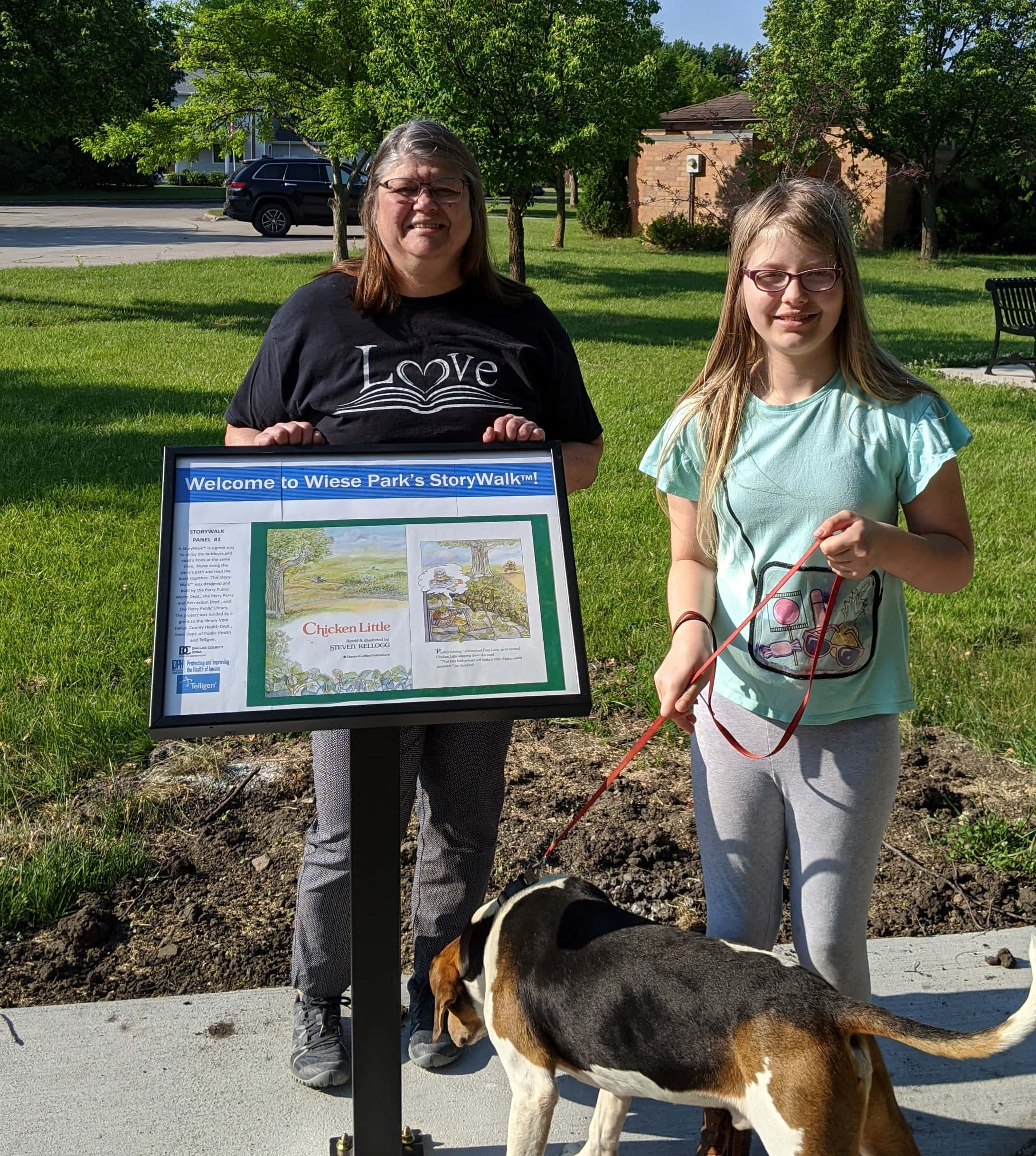 "In a collaborative effort between three different Perry City departments, there is a new activity available to people of all ages that encourages both reading and exercise.
The new StoryWalk stations were installed around Wiese Park over the last few weeks, and this week they were loaded with pages from the book "Chicken Little," as retold and illustrated by Steven Kellogg. Those interested in taking the StoryWalk will begin their journey at the central playground at the park, and will be taken through 16 story panel stations displaying two pages from the book. Also included with the activity are various challenge stations, which include activities such as jumping jacks, skipping, or walking backwards.
The stations are spaced around 150-200 yards apart, so it will take some hiking around the park to get the full story. The project was sponsored by the Perry Public Library with help from the Health Initiatives grant provided by the Iowa Department of Public Health. The stations were constructed and installed by the Perry Public Works and Parks and Recreation departments. Library Director Mary Murphy says her hope is that residents will explore the StoryWalk, read the book, enjoy the outdoors, and have fun while doing so. She also says they'll change the book every six to eight weeks to keep things fresh.
StoryWalk is back! Starting June 15th, enjoy reading Kevin Henkes' "My Garden," while taking a walk through Stango Park. Start outside on the patio behind the Kids' Wing. Download a picture or a copy of the scavenger hunt before you go. Email it back to us and you'll be entered into a drawing to win a Library Prize Pack. Learn more at: https://lewes.lib.de.us/2018/09/19/storywalk/"